Engine problem help 
Engine problem help. Contact Info: If on a cell phone - to ask a question -  order items listed. call me ... george 512 665 3388
The why's
    End internal motor problems that cause bad operating, or mechanical hangups in half a day - yourself, by driving! Driving causes them! Now, it can reverse them by using engine forces to nd them. How so, you may wonder?
    95% of all internal motor problems have 6 basic reversible causes. With the right chemistry you can add 6 products to do so - which ends the problem. Mechanics have been trained to do so by identifying the trouble makers and replacing them. That requires going into the engine - is labor intensive - is expensive. There are alternatives...
Alternatives to repair that end engine problems : residue remover.
   To end most any internal combustion, piston, bearing, valve, gear. or valve lifter part trouble maker! Do so by using these 6 additives in this specific sequence shown, to do so. The motor problem help links: 
Mega Power Fuel Treatment and Injector Cleaner.
Mega Power Engine Oiling System, and Part Cleaner. 
Mega Power Combustion and Exhaust System Cleaner. 
Mega Power Engine Flush Out.
Mega Power Engine Treatment. 
Mega Power Oil Treatment.
   Steps to using the above engine problem help install.
    Step One:
     Add items #1 #2 #3 to the motor oil and fuel as directed.
     Drive with them fro week to start reversing your motor problem.
     A week later do Step Two.
    Step Two:
      After a week of driving do an oil change like this.
      10 minutes before an oil change add item #4 to the motors oil.
      Drive for 10 minutes, then do an oil change.   
      To the new oil add items #5 and #6.
      The problem should be gone and the motor should be smooth, quiet,        very peppy. 
     Select the links below to find you engine problem ordering details.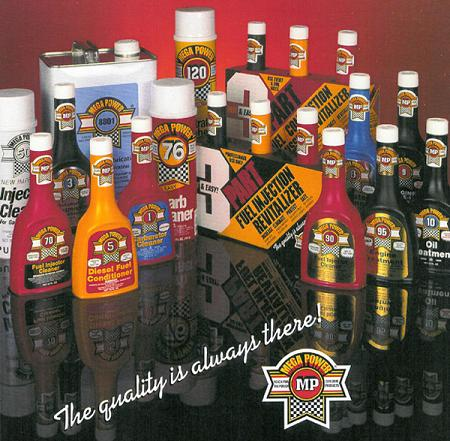 Mega Power Brand of unique engine problem help additives. Page contain problem ending engine product description and usage.
Click These engine problem help links for your engine problem: