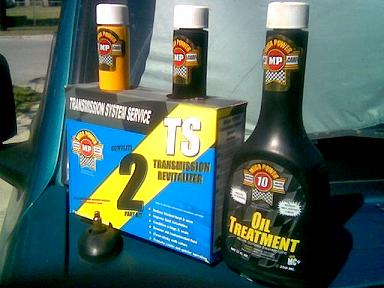 Transmission Service Product to end shifting problems - from Mega Power Additives.



 Why not join those that enjoyed this same solving transmission shift problems secret?

Unlike most additives from part stores and quick lubes; that are thick, gooey fluids, or solvents - repackaged for extra profit-making for the store. Here are shift problem-solving tips using the Slo-wear Fix-better Transmission Treatment. It corrects rough shift problems.




Features and benefits:

Two MP Transmission Treatments for 2 cars 6 items. $100 +$20s&h=$120 total.

Six MP Transmission Treatments 18 items $180+$20 s&h= $200 total. Bonus: Get one $60 for Free - by asking for it with order of 2 or more Treatments... Just 24 reserved, so order now, before this $65 Free Bonus is gone. If calling, refer to this page please for this bonus.




Special

Order one Mega Power Engine Treatment $80, with your Mega Power Transmission Treatment $75. Save $35 Both $120, total shipped to you. Same guarantee.

Order online, have a question answered, call in your order: 512 665 3388 .... george
Get the hard shift fix and protection only Mega Power can give. Get on humming down the road, again!