Contact info: on a smart phone. To ask a question. Order items listed by phone.
Call me... george 512 665 3388
Automotive Additives: 
Fuel System Tuning.
 Try Mega Power FISC.
The Best Treatment to Clean, Tune Up Your Fuel Injectors, Piston/Valves/Motor To Perfection.
Premium 3 item, add to gas tank and oil coverage. Do it yourself and save.
3 item Fuel Injector Additive Cleaner. Why 3? Cleans fuel system. Cleans injectors. Clean wherever fuel air combustion go - for ideal tuning.
Add red and yellow to gas tank. Black to motor oil. In l a few miles driving engine regains strong power. Great fuel economy.
Automotive additives.

Why a 3 item fuel injector cleaner?  
 Why Mega Power's 3 item injector service should be your choice.
   Just like you use several shampoos to clean, condition dry  hair, and end itchy scalp. You need 3 to rid your motor of its sluggish problems.
To clean off carbon on injectors, you need a carbon remover. Add Red item to fuel tank.

Y

ou add a lubricant to aid dry pital movement. Add yellow item to fuel tank.

You add an engine conditioner to clean and free the engine i

dle valve, clean spark plugs, valve heads. Clean/free piston rings. 

Remove combustion area carbon. Black
   And added ingredient removes friction Friction reduction benefit.

   Other uses:
Direct internal cleaning. Use high pressure feeder. [Yellow]

Use low pressure vacuum feeders. [yellow]

Can add red item to fuel tank for cleaning as well.

Black, Add to motor oil.



Ordering details:
$69 + $15 s&h= $84. 3 day delivery. Includes directions, phone help, guarantee. Total $84. Click cart button to order.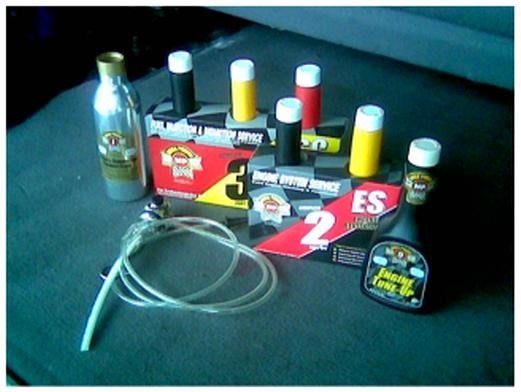 6 item worn motor treatment An automotive additives product ends older engine problems: also revitalizes loss performance.
Mega Power Automotive Addities:
Worn Motor Treatment
     Why needed: Installing this treatment into your motor will add years more trouble-free life!
You will love avoiding a costly engine repair when suffering from oil burning, valve tapping, an compression blowby  - to avoid repair as your solution.
  You will love this special kind of chemistry that ends older engine problems while you drive. Its very futuristic, but here today, and this site will show you what it is and how to do the correction of the problem as you drive.
Cleans and free up parts where air, fuel, combustion exhaust and oil goes return a like new performance!

Change every rough part and area surface back to smooth, to close down wear gaps, and to end running, noise, tap, loss of power, lousy fuel economy problems. 

Offers a long term solution - no other product comes close too. Pays for itself!

Ordering: Mega Power Worn Motor Treatment comes with 6 items needed. Easy install directions and offers a satisfaction warranty or your money cheerfully refunded - if repair is the real fix.

FedEx to your door in 3 days.Click crt button to get started.